Veterinary supplies
Here you will find once Suits & disposable gloves, syringes or needles, gaskets and other accessories for the veterinary needs, or for the need in your farm.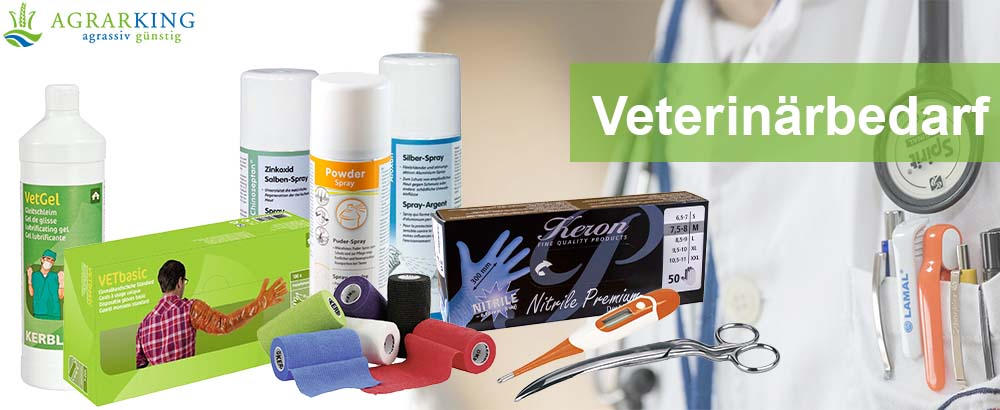 Veterinärbedarf online bei Agrarking bestellen
Bei der Behandlung von Tieren durch einen Tierarzt, ist eine ganz spezielle Ausrüstung gefragt. Diese unterscheidet sich in den meisten Fällen deutlich von den medizinischen Hilfsmitteln, welche bei Menschen eingesetzt werden. Professionellen Veterinärbedarf können Sie ganz einfach im Internetshop bestellen und brauchen nicht lange nach der passenden Ausstattung zu suchen.
Veterinärbedarf bequem online bestellen
Die Haltung von Nutztieren und Haustieren erfordert immer ganz spezielle Bedingungen. Diese unterscheiden sich, je nach Tierart. Agrarking.de ist Ihr perfekter Shop, wenn es um die Haltung, Pflege und Behandlung von Tieren geht. Gleichgültig ob Weidezäune, Werkzeuge für die Stallarbeit oder Arbeitsbekleidung, das Sortiment im Agrarking.de Shop ist sehr breit gefächert und enthält unter anderem auch diverse Artikel für den Veterinär Bedarf. Bestellen Sie zum Beispiel:
extra lange Veterinär Handschuhe als Einwegartikel
Spritzen und Kanülen
Schutzanzüge für den Infektionsschutz
Salben
Geburtszangen
Desinfektionsmittel und Sprays
Veterinär Fieberthermometer
Beatmungspumpen
Verbandsmittel
Und noch viele weitere Produkte, die für die medizinische Versorgung von Haus- und Nutztieren benötigt werden. Selbstverständlich entsprechen alle Produkte des Onlineshops den geltenden Bestimmungen für Qualität, Hygiene und Sicherheit.
Günstig Veterinärzubehör einkaufen
Es spielt keine Rolle, was Sie bestellen möchten, der Agrarking.de Veterinärbedarf Shop macht es Ihnen nicht nur einfach die passenden Produkte zu finden, weil alles nach Kategorien sortiert ist, Sie profitieren beim Einkauf von Veterinärzubehör online auch von erschwinglichen Preisen. Überzeugen Sie sich selbst davon! Und ab einem Warenwert von 200,00 € sind alle Lieferungen innerhalb von Deutschland außerdem versandkostenfrei möglich. Bei der Registrierung für den regelmäßig erscheinenden Agrarking.de Newsletter erhalten Sie nebenbei als kleinen Bonus einen Rabatt von 3% auf den Einkaufspreis und sind immer über Neuigkeiten und Sonderpreise auf dem Laufenden.
Vorteile für Agrarking.de Kunden
Tiere impfen, ihnen Injektionen verabreichen, Verbände anlegen oder Kälber, Lämmer und Fohlen zur Welt bringen, all das ist mit dem Zubehör aus dem professionellen Veterinärbedarf Shop möglich. Der Onlineshop bietet Ihnen ein breit gefächertes Sortiment an Produkten für die Haltung und die medizinische Behandlung von Tieren verschiedenster Art. Ob für Schafe, Kälber, Pferde oder andere Tiere, anhand der detaillierten Artikelbeschreibung, können Sie einfach das passende Veterinärzubehör auswählen und direkt zu sich nach Hause liefern lassen. So sparen Sie Zeit und Wege.
Gleichgültig ob Sie Veterinär Handschuhe, Veterinär Fieberthermometer oder einen anderen Artikel bestellen möchten, Sie erhalten über die Kunden-Hotline auch die passende Beratung gleich mit dazu. Wenden Sie sich ganz einfach an das Service-Team, wenn Sie telefonisch weitere Informationen zu Bestellung, Lieferung oder Sortiment erhalten möchten.
Und auch die Bezahlung Ihrer Bestellung bei Agrarking.de ist sehr einfach. Bei der Begleichung der Rechnung stehen Ihnen verschiedene Möglichkeiten zur Wahl. Entscheiden Sie sich für: Paypal, Kauf auf Rechnung, Giropay oder Kreditkarte.