House, yard and garden
In this category you can find everything around house, yard or garden. In the subcategories Cleaning and Care, pest, lubricants and disinfectants and tools we hold a large range of products for you.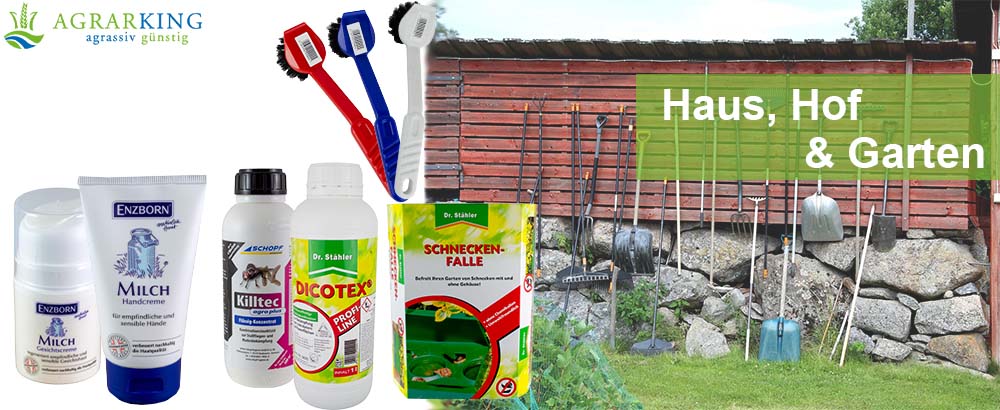 Haus Hof und Garten in Bestform bringen
Ein sauberes und schönes Umfeld ist nicht nur im Haus wichtig, auch Hof und Garten wollen gepflegt werden. Für diesen Zweck haben wir in unserem Garten Fachhandel die besten Helfer zusammengestellt, die auch Ihren Außenbereich zu einem wahren Schmuckstück machen werden. Wir bieten für Haus Hof Garten die besten Lösungen, um jeden Bereich zur Bestform auflaufen zu lassen. Von Unkrautvernichtung bis hin zum idealen Besen reicht die Spanne der Möglichkeiten, um das eigene Grundstück noch schöner zu machen.
Für Innen und Außen
Desinfektionsmittel ist heute wichtiger denn je. Denn in Haus Hof Garten sollte gründliche Sauberkeit herrschen. Aus diesem Grund finden Sie hier auch Desinfektionsmittel in großer Auswahl. In diesem Sortiment befinden sich:
Handdesinfektionsmittel
Stalldesinfektionsmittel
Blauspray
Praktische Desinfektionsmatten gehören ebenfalls zu unserem Sortiment. Damit ist die hygienische Reinheit in Haus und Außenbereich kein Problem mehr. Ob im Stall oder vor der eigenen Haustür, jetzt ist Hygiene überall selbstverständlich. In unserem Garten Fachhandel finden sich aber noch mehr nützliche Helfer, die innen und außen ihren Dienst tun. Denn neue Besen fegen gut. Aber dieses Sprichwort geht uns noch nicht weit genug. Ein wirklich guter Besen zeichnet sich schließlich dadurch aus, dass er gründlich säubert und zudem eine lange Lebensdauer hat. Hochwertige Straßen- und Saalbesen haben wir deshalb in einer großen Auswahl für Sie bereit. Hier findet sich für jeden Zweck das richtige Kehrgerät. Innen- und Außenbereich werden so im Nu ordentlich sauber.
Im Kampf gegen die Plagegeister
Das sogenannte Ungeziefer ist nicht nur unangenehm, diese Plagegeister können auch eine Gesundheitsgefahr darstellen. Deshalb ist in unserem Sortiment auch ein großer Bereich für die Schädlingsbekämpfung reserviert. Hier finden sich Rattenfallen – und Köder. So können Ratten bekämpft werden, ohne dass dafür gleich der Kammerjäger gerufen werden muss. Gegen Fliegen bieten wir Fliegengift und Fallen. Das ist nicht nur für die Terrasse ein großer Gewinn. Damit Ihr Garten nicht zur Speisekammer von Schnecken werden muss, sorgen wir ebenfalls für Hilfe. Wenn die Schale mit Bier nicht die gewünschte Wirkung zeigt, kann eine professionelle Schneckenfalle Abhilfe schaffen. Auch das bewährte Schneckenkorn findet sich hier. Noch kleineren Schädlingen wird ebenfalls der Kampf angesagt. Milben sind ja nicht nur in Stallungen ein Problem, sie sind auch im Garten gefürchtet. Wir haben daher neben den effektiven Milbenbekämpfungsmitteln für Stallungen und Volieren ebenfalls Sterizide im Angebot, die den Gartenbereich milbenfrei halten. In diesem breiten Sortiment findet sich daher immer ein hervorragendes Mittel gegen Schädlinge in Garten und Hof.
Unkraut leicht bekämpft
Unkraut lähmt den Garten geradezu. Für die Unkrautentfernung haben wir nicht nur flüssige Unkrautvernichter ins Sortiment genommen, sondern auch mechanische Mittel. So kann mit einer Fugenbürste dafür gesorgt werden, dass die Zwischenräume der Wegplatten ansehnlich bleiben und die Platten nicht mehr durch Wurzeln und Feuchtigkeit beschädigt werden. Flüssig und mit Pulver kann Unkraut ebenfalls ausgemerzt werden. Daher haben wir im Garten Fachhandel all die Mittel zusammengestellt, die ohne viel Aufwand eine große Wirkung in der Unkrautentfernung haben. Hier spielt die Firma Dicotex eine sehr starke Rolle. Denn von Dicotex kommen die Unkrautentferner, die äußerst effizient wirken. Ob Schädlingsbekämpfung oder Reinigung, wir bieten ein Sortiment, das Ihrem Grundstück zur makellosen Schönheit verhilft.